Relationships CHANNEL
A Friendship Recipe for Teens
Guest Contributors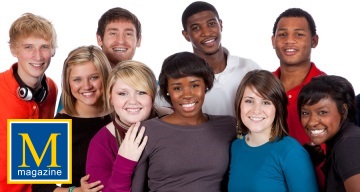 We enter grade school and are immediately immersed into the world of Mathematics, English, and Science. We spend our years in school learning about Socrates and Einstein, and graduate with a diploma of achievement. On our quest to accumulate knowledge and become well-rounded individuals, however, we might forgo valuable social lessons such as learning how to make and be a friend. Classes like Friendship 101 or The Theory of Friendship have yet to be implemented or even conceived by educators, since it is assumed that making and being a friend comes innately.
The truth of the matter is, while some of us are natural social butterflies, others struggle to leave the cocoon of shyness and introversion. We all wish we were on the hit '90s TV series Boy Meets World and had a teacher like Mr. Feeny on our shoulders to teach us how to create our own circle of trust. But although Mr. Feeny only exists behind the television screen, his lessons may very well serve us in real life.
Lesson #1: Don't be afraid to step out of your comfort zone.
Often times we hesitate to reach out to others because we fear rejection or simply lack the impetus to socialize. This summer, I was granted the opportunity to do exactly the opposite as I participated in the Asian American Journalists Association's Journalism Camp (JCamp) in New Orleans. Fifty other students from all over the United States joined me, carrying backpacks full of the most diverse backgrounds and personal stories I could ever imagine. As I made my way through Loyola University's dorm hall and met my roommate from California, Clare, I was instantly amazed by all the things we had in common.(And I'm not just referring to our five-foot, one-inch height). We both loved talking about politics, pop culture, and the typical seventeen-year-old concerns about high school and the college application process. If I had chosen to wait for an experience like JCamp to come to me instead of taking the initiative and applying, I would have missed out on the wonderful experience JCamp offered me. By applying to camps such as JCamp or joining clubs at school, the exposure one receives is invaluable as we meet various people that share our same interests. Yes, it may take time to develop lifelong friendships, but it all starts by being proactive.
Lesson #2: Never judge a book by its cover.
Every person has a different story, appearance, and even accent. We never know who the person is until we approach them and get to know them. By profiling another individual in the same time it would take to approach them and say "hello," you are dismissing the opportunity to meet someone who could have been a great friend. Don't be swayed by others who only hang out with the "cool crowd" because superficiality only goes so far. Be the friend you want to have.
Lesson #3: Be straightforward and loyal.
Friendships are born out of trust and fraternity, not hypocrisy. Friends are those people we feel comfortable with; some of us may even consider friends family given especially strong bonds. Loyalty is crucial in friendships because it allows people to distinguish the real friends from those who are strictly acquaintances. Stay true to yourself and never fall into peer pressure. Friends don't push you to do things you don't want to do. If someone puts you in that situation, that person was never a true friend.
When making friends, think about the value of quality, not quantity. It is better to have a few good friends than hundreds of friends whom you hardly know or feel identified with. Tennessee Williams once said, "Life is partly what we make it, and partly what it is made by the friends we choose." Choose your friends wisely and the rest will come together; it just takes one small step.
---
About the Author:
Maria Cristina Chicuen is a high school senior at Felix Varela Senior High School in Miami, Florida. Maria was born in Havana, Cuba and moved to the United States in 2002. As a member of the iPrep and Global Studies Academies at her school, Maria has tackled a rigorous course load that includes several AP classes. However, Maria still finds the time to play on the varsity volleyball team and fulfill her duties as President of the Spanish Honor Society.
The MOTIVATION 'Key Takeaways' for this article:
A Friendship Recipe for Teens
Lesson 1) Don't be afraid to step out of your comfort zone.
Lesson 2) Never judge a book by its cover.
Lesson 3) Be straightforward and loyal.
"When making friends, think about the value of quality, not quantity."

~ Maria C. Chicuen