As I start motherhood amid a pandemic, I'm trying to find God's grace in the upheaval.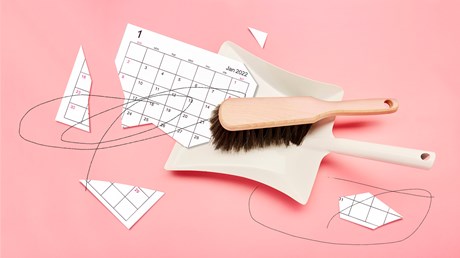 My friends spent the last few weeks wiping the slate clean, burning relics of 2021, and setting goals for 2022 in anticipation of the new year. And while social media makes these rituals look picture-perfect, many of them involved frustrated, last-minute adaptations prompted by the omicron variant of COVID-19, which keeps rearing its persistent head just when it seems like we've collectively passed the worst of the pandemic.
In short, rituals aside, we all seem to be limping into 2022 already weary and worn ragged. My own plans for an efficient denouement to 2021 and reflective, peaceful start to 2022 have been upended thoroughly.
Here's what I hoped would happen: I would finish book revisions on December 15, delivering a beautiful manuscript to my editor in time to take a holiday break and prepare for the arrival of my first child, due in late January. My husband and I would rearrange the house, turn my office into the baby room, and clean everything thoroughly. I would finish a baby quilt while considering the ways my life will change in the coming year. I would drink hot chocolate and eat Christmas cookies.
Here's how things are really going: After realizing that finishing book edits during end-of-semester responsibilities was a pipe dream, I got an extension with plans to submit in early January. After I revised this book plan, the baby revised his plan as well: The doctor informed me he wanted to induce three weeks early (which, if you're counting, places baby's arrival also in early January).
The baby's room is also my office, and thus a mess of books, papers, and baby gear. I did finish the baby quilt, and it is lovely—but then I washed it and learned that blue dye bleeds everywhere, …