Personal CHANNEL
Spring Cleaning, It's Not Just for the Garage
Guest Contributors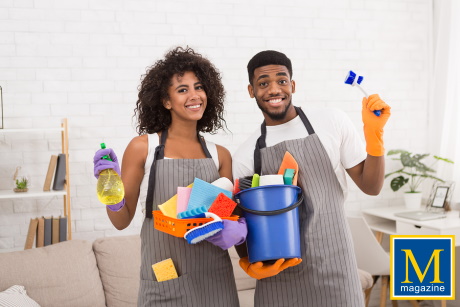 Copyright © by MOTIVATION magazine.   All rights reserved.
Aaahhhh! Spring is finally here!
The green leaves are arriving, the flowers are sprouting, and the Robins are building their new nests and laying their beautiful blue eggs. However, in order for all of this to happen, Mother Nature has had to be very busy at work, doing her Spring cleaning. That's right, if we take a look at Mother Nature we can learn a great deal from her example.
For one thing, Mother Nature is not a procrastinator! She doesn't wait until Spring has arrived to do her Spring cleaning. No indeed, she actually gets started in Autumn, when the old leaves fall off of the trees and the flowers begin to drop their seeds. She works her magic, even as the leaves are wilting away, even as the seeds are falling to the ground, and prepares the way for Spring to arrive the following year.
Can you imagine Mother Nature waiting until Spring arrives to get all caught up with her "Housework"? Simply waiting and watching as the leaves drop from the trees or perhaps sitting idle, while the flowers drop their seeds back into the earth? If that were to happen, our beautiful Spring would simply become a chaotic mess. So you see, The Art of Spring Cleaning has been around for a long time, Mother Nature started this ritual eons ago. Every Spring, she teaches us that you have to let go of the things that no longer serve you.
Imagine if she refused to let go of the dead leaves on the trees or the wilted flowers in the garden, what would our world look like? There would be no room for the new and wonderful bounty that the Spring Season brings. But how often do we humans follow Mother Nature's example? We have the basement or garage full of things we don't use or need, but we refuse to let them go. We hold onto the broken down lawnmower that, some day, we may just have time to work on. It's only been three years, but we know we'll get to it sooner or later- right? What about the bicycle you've had since you were a kid? Wouldn't it be better for everyone if instead of sitting in your garage, it was donated to someone who could ride it? However, there it sits, useful to no one.
Our garage and basements become so full of things that we can't use, that there's no room for the new things that we want and need. When we make the choice to get rid of the things we don't need any more, it's like the tree dropping the leaves on the forest floor. To take the analogy further, not only does the tree get rid of the old used up leaves, but this action actually opens up room for the new! There is also an added bonus, the old leaves get recycled! Those leaves are now used to help the young plants grow and the ground foliage to become more abundant!
How many people could benefit from ridding themselves of their old stuff that isn't serving them anymore? We can even take this one step further; for instance do you know anyone that is holding on to old emotional baggage and leaving no room for growth in their inner personal life? How can we move on and grow, if we are holding on to all that stuff from the past? The past isn't there anymore, so neither should be the baggage! We have to learn to let go of all those old issues, grudges, antiquated ideas, etc. that no longer serves us.
I am now inviting you to create a list of all of the projects you have started. Next go through this list of projects and ask yourself, am I really going to do that? If not, then take it off the list. As long as you leave it on the list, it's just one more thing that you feel like you haven't completed. On a subconscious level it tells us that we really don't have the time to do all the other, more important things that we really want to do or that would serve us much better.
There is nothing wrong with de-committing from something that we know isn't going to get done. It actually will serve us much better, because it will free up all that time for us. Instead of wasting a half-hearted hour working on a project that you don't want to do anymore, go ahead and put a full-hearted hour into something that you really want to do, something that you are passionate about, and that doesn't feel like a chore.
You can only have growth where there is room for it, both inside and out. This is the lesson we can certainly learn from Mother Nature. Go ahead, enjoy your Spring cleaning, and next year maybe get started a little earlier. Take Mother Nature's advice—Let it go and watch how you grow!
---
Hi! After reading this article, where are you now going to do some Spring Cleaning? Kindly share one or two things you are planning to clean up by commenting below. Thank you in advance for sharing.
---
About the Author: Chris Livingston
Chris Livingston has become known as America's Maximum Thinking™ Coach. He's the author of the book Pathways to Success: A Better Way for Your Today. His "can–do" attitude and effective ability to teach interpersonal skills that bring forth rewarding real-life results, has made him a valuable "go-to" consultant and mentor for those facing challenges in business, career and life. With over 20 years as a successful entrepreneur, Chris has helped many businesses to shift and change their company's mindset to achieve greater success in sales, team efficiency, strategic business development, and in making excellence "The Standard." He believes in and embraces the philosophy of Dr. Wayne Dyer, "When you change the way you look at things, the things you look at change."


For information on the author, click on the following link:  Chris Livingston.
The MOTIVATION 'Key Takeaways' for this article:
Spring Cleaning, It's Not Just for the Garage
Take Mother Nature's advice—Let it go and watch how you grow!
1. Don't procrastinate, it only puts you in the mindset that you have to rush and the more you

have to rush the less productive you're going to be. In the long run procrastination causes chaos.
2. As we grow we need to let go of things that no longer serve us anymore in order to move forward and make progress.
3. We must let go of the emotional baggage that we are holding on to, we can't move forward

when we are focused on the past. The past doesn't exist anymore and we can't change it. So start creating your future today.
4. Be willing to de commit from the things that you know you're not going to do; this will give you more time to put effort into the things that will help you move forward, without making you feel

like you are over committed.
5. You must open up room for growth, without space there isn't room for anything new in your life.